Choosing Quality: Why Expertise Matters in Sweater Repair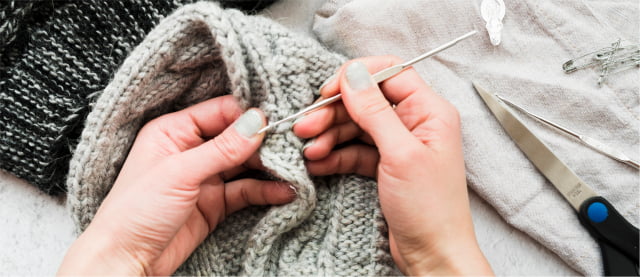 There are few things capable of elevating your mood more quickly than slipping into a cherished sweater – the way it makes you feel usually goes beyond the tactile. While a favorite sweater may simply be a luxurious cashmere garment that keeps you warm, it also imparts the confidence that goes hand in hand with looking your best. In some instances, a treasured cardigan or knit hoodie might even hold sentimental value – a gift from a loved one, perhaps, or a special splurge you purchased during college. So why would you trust just anyone to repair your prized knitwear? When it comes to quality, finding the best sweater repair services isn't just a luxury, but a necessity.
Trust The Experts: How Professional Sweater Repair Can Provide Peace Of Mind
In that moment when you reach for your favorite sweater and discover it's got holes or pulls in it, it can be stressful (and downright upsetting) for many reasons. For one, it may be a costly garment that you're not ready to part with just yet. Secondly, it probably looks great on you – after all, there's a reason it's your favorite. And thirdly, you might even have an emotional attachment to it (ex., it was gifted to you by your bff and has inadvertently become your good luck charm on job interviews and first dates). Whatever the case may be, realizing a beloved piece of clothing is damaged can be, simply put, a major bummer – especially if you're not sure if it can be salvaged!
When it comes to repairing a favorite sweater or other knitwear item in your wardrobe, it's not a one-size-fits-all approach. In fact, invisible repair has become somewhat of a lost art, as it is a highly-skilled mending service that requires years of training, skill, and expertise. And while you might consider using your local tailor or a freelance seamstress, there's a good chance they do not have the proficiency, machinery or experience to provide you with the level of repair services required. In this instance, you truly do get what you pay for. Instead of rolling the dice and hoping for the best, leave it to a knitwear repair service who will give you peace of mind with a job done right the first time.
Hiring Sweater Repair Experts: Why The Pros Can Do It Better
As we've covered, there are many reasons why it's best to leave custom sweater repairs to the experts. Knowing that your prized knitwear is being handled with the utmost care will allow you to breathe a sigh of relief – especially when you receive your favorite sweater or knit garment brought back to its former glory! Here are a few key benefits to entrusting your knitted clothing to the pros:
A Stitch In Time Saves Nine:
Before the damage gets to the point of no return, trust an expert sweater repair service to salvage a favorite cardigan, hoodie, skirt, coat, afghan, or other cherished knitted item. Additionally, you're not only saving your wardrobe, but your valuable time – in this day and age, who has the hours to run around to various local tailors, cleaners etc. to ensure your garment receives the proper maintenance and care?
Proper Knitwear Repair is NOT DIY:
While many people may claim they can "fix" your sweater, expert knitwear repair isn't a craft or a hobby. In fact, it's a lost art – only a handful of individuals know how to do it properly. Invisible mending is a very niche skill and takes years to learn correctly.
Done Right The First Time:
When you bring your knitwear items to a professional knitwear repair company, you can rest assured that your garment will receive the best quality repair possible. Trusting the pros ensures the job is done correctly by a seasoned professional vs an amateur or local tailor/freelance seamstress who lacks the specific skills, machinery or experience to get the job done.
Sentimental Value:
You can't put a price tag on a memory. A skilled knitwear repair artisan can save a favorite or sentimental item that is beyond a local tailor's repair or mending capabilities, enabling you to enjoy a cherished item that much longer. Whether it requires reknitting, restyling, alterations, de-pilling, hand washing, or all of the above, professional knitwear maintenance allows you to continue enjoying your favorite knitted pieces for many more years to come (and hold onto those precious memories)!
One-Stop Shop:
Using the services of a professional sweater repair company provides convenience and efficiency that you simply cannot get anywhere else. When you hire a knitwear alteration & repair service, you can enjoy an all-inclusive experience, saving you not only time and money, but the aggravation entailed with relying on multiple vendors to achieve the same (or lesser) results.
Ready to fix your favorite sweater? Schedule your repair today!