What are The Best Practices For Preventing Knitwear Damage?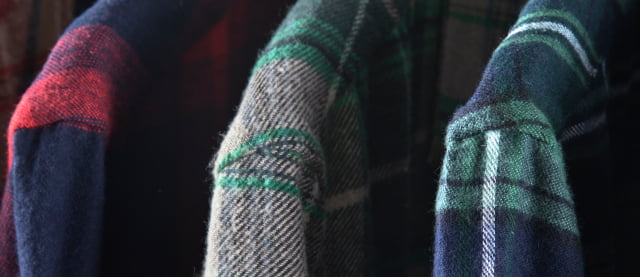 We've all got one in our wardrobe: the perfect sweater.
That sweater that makes you feel like a million bucks – it drapes perfectly, is flattering no matter how you style it, and keeps you feeling cozy and confident wherever your day may take you.
But what's the best way to take care of your beloved sweater (or any knitwear, for that matter) so that it will last for years to come? Read on for helpful tips on how to not only care for your favorite sweaters, but how to protect and prevent damage to all of your cherished knitwear items.
Know Your Knits: Handle With Care
Understanding how your knitwear is constructed is one of the first steps in knowing how to maintain your favorite pieces. By definition, knitting refers to the technique of using two or more needles to pull and loop a singular yarn to create a series of interconnected loops, resulting in a either a type of fabric or a finished garment. Consequently, knitwear is fairly fragile, since it's prone to snags – one serious pull and you could possibly unravel the whole garment! Therefore, it's of utmost importance to handle your delicate knitted clothing and accessories with TLC, especially when cleaning and repairing.
Knowing what your knitwear is made of is also fundamental to your maintenance regimen. Since knitted clothing is typically constructed of natural materials like cashmere, wool, and mohair, it requires special washing, drying, and even storage techniques. Such textiles are comprised of delicate protein fibers, which make them vulnerable to the elements – including friction, heat, and even direct sunlight. Therefore, your favorite knitted items demand a bit more attention to ensure their longevity. From laundering and mending to finding the best knit repair services, caring for your favorite knitwear takes time and patience, but will add years of life to your wardrobe.
Damage Prevention 101: How To Protect Your Favorite Knitwear
As any fan of knitwear will attest, this versatile textile spans the seasons. From autumnal cashmere wraps and chunky cable knit cardigans to summery, lightweight sweaters made for a holiday getaway, knitwear is functional as it is fashionable. Whether it's a J.Crew argyle sweater shell, a waffle knit hoodie jacket from LOFT, a Todd Snyder crewneck, or an oversized wool sweater from Net-A-Porter, it's essential to maintain your prized knit garments properly. Below, a few pro tips to care for your treasured knitwear:
Read The Label:
First and foremost, always read the label or check the tag for garment care instructions; for vintage clothing, this article featured in Vogue offers some great maintenance tips.
When In Doubt, Handwash:
Many experts recommend handwashing knits made from animal hair (e.g., wool, mohair, cashmere, alpaca, merino, angora), as well as natural fibers like silk. If the label allows machine washing, use the delicate cycle only and avoid high temperatures. When handwashing, opt for cold water and avoid bleach and harsh detergents. Refrain from scrubbing to prevent surface damage; soak garments instead for up to 10 minutes and rinse thoroughly with cool, clean water. Never ring out, rub, twist or hang knits, as it can destroy the material and shape of your piece. If you must iron, be sure to use the lowest temperature setting and a clean pressing cloth as a protective barrier between the garment and the iron (a cotton handkerchief works well).
Consider Mesh Washing Bags:
Synthetic and cotton knits may be more resilient to machine washing; however, they're still prone to snags. Mesh bags are designed to protect knitwear and other delicates in your wash cycle.
Air Dry FTW:
As a general rule of thumb, always air dry your knitwear – but never hang it to dry. When wet, knitted items are even more prone to stretching out and becoming misshapen, since the water adds extra weight. Therefore, avoid draping over a clothes horse or using hangers. Instead, lay your knits flat to dry. For a suitable surface, consider putting a plastic, felt-backed tablecloth on your dining table or countertop, and then lay a clean towel down before placing your laundered knits atop to dry.
Store For Safety:
Whether stacking neatly on shelves or putting away seasonal items in sealed containers, storing your knitwear appropriately is key to maintaining its integrity and appearance. In addition, it keeps your favorite garments free from moth damage, discoloration from direct sunlight, and even mildew in damper environments. Be sure that your knitwear is completely dry before putting into storage, and always fold your garments to keep their shape (hanging is a huge no-no). You may also consider using lavender or dried cedar in your storage containers, shelves, drawers or closet space to repel moth activity.
So whether it's a favorite fall sweater, an heirloom afghan blanket, a beloved knit skirt, or a vintage wool jacket, creating a maintenance plan provides both peace of mind and longevity for your knitwear. Have a piece that's already damaged? Looking for the best invisible repairs? Contact us today!